Welcome to another Crypto Weekly Digest brought to you by VirtualBacon
In this week's issue:
NEWS 📣
Amazon launching NFT and Web3 Gaming Initiative
DeFi Lender Aave Deploys Version 3 on Ethereum Network
Doodles 2 launching on January 31st, will support multichain starting with FLOW
US Government to release roadmap to crypto initiatives
Polygon zkEVM in testnet, mainnet date to be released soon
Canto Blockchain launches Contract Secured Revenue (CSR)
Filecoin Virtual Machine (FVM) expected to go live in H1 2023
SudoSwap's $SUDO token is live with lockdrop until March 1st
MARKET WATCH 📈
Top Performing Cryptos of the Week
Important Upcoming Events
NEW VIDEOS ▶️
This MAJOR Ethereum Upgrade Changes Everything (2023 Ethereum Roadmap)
---
News
---
Amazon launching NFT and Web3 Gaming Initiative
Amazon is reportedly exploring ways to integrate blockchain and digital collectible technology into its platform. This could include the use of blockchain-based gaming and non-fungible tokens, with the potential of allowing customers to play crypto games and claim free non-fungible tokens.
This news is fresh off the heels of their Amazon x Avalanche news.
While there's no concrete announcements about this NFT program, Amazon has been open to a number of different initiatives such as company NFTs.
There's also been growing speculation on whether Amazon is trying to build a NFT marketplace to compete with Opensea.
DeFi Lender Aave Deploys Version 3 on Ethereum Network
Aave deployed v3 on Ethereum mainnet last week.
Aave v3 will introduce High Efficiency Mode (eMode) to help users reduce risk and increase capital efficiency when staking or borrowing correlated assets such as stablecoins and Liquid Staking Derivatives (LSDs).
eMode allows users to maximize their borrowing power with collateralized assets like wstETH (wrapped staked ether), enabling them to stake larger amounts of Ether on the Ethereum blockchain while still retaining liquidity and receiving rewards.
The new "Efficient Mode" will also have an easy looping feature for Ethereum staking to boost APY upto 45% with one click.
Doodles 2 launching on January 31st, will support multichain starting with FLOW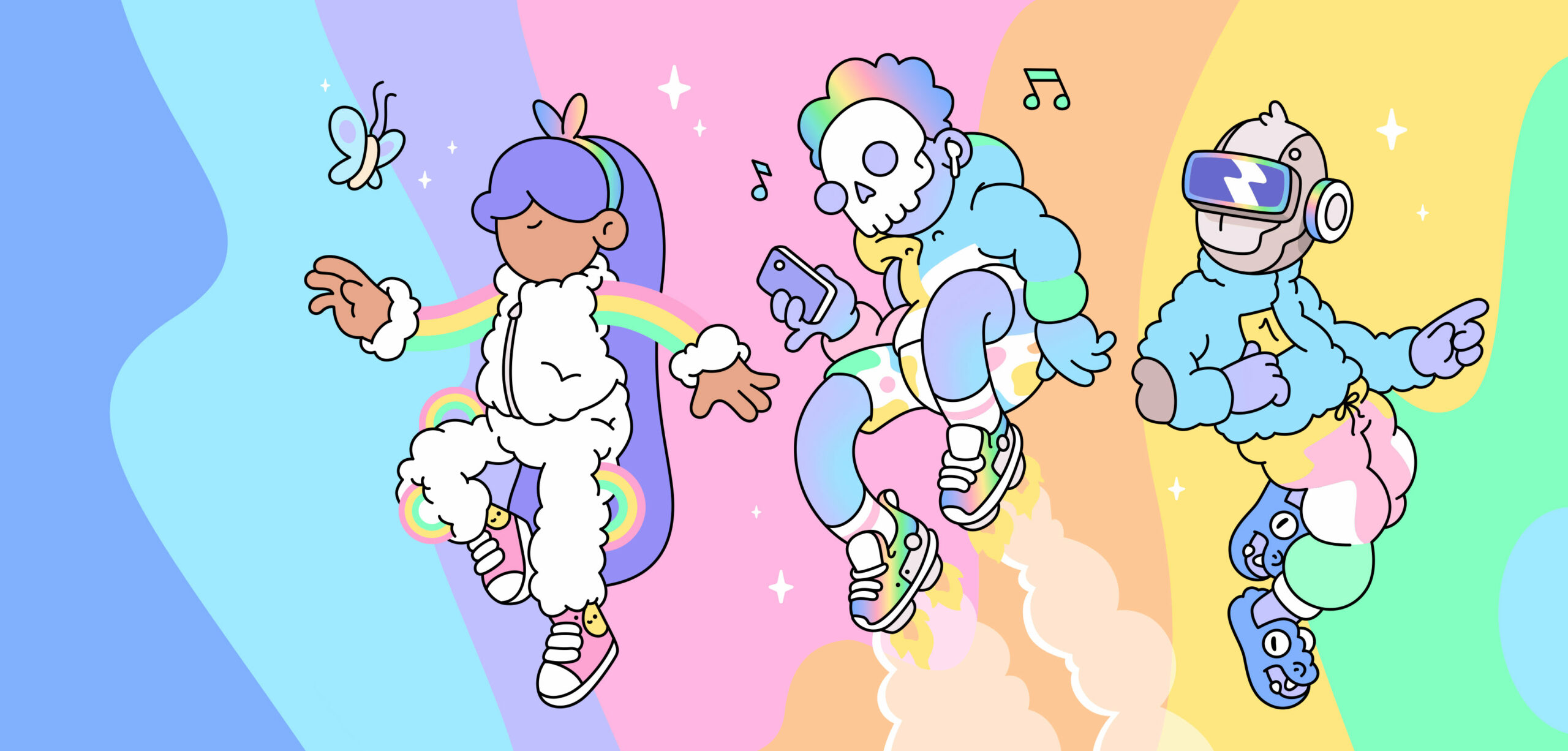 Plans for Doodles 2 we're initially unveiled in the summer, with the goal of buildinf crosschain into the flow ecosystem.
With the original collection being capped at 10,000 NFTs, the Doodles 2 expands the collection, gives the project more funding, and also drives more adoption.
Doodles 2 will be a choose-your-own Doodle, with each NFT being fully customizable, but with only generic features.
In the future, new wearables collections and brand collaborations with partners, musicians, and creators will be released, as well as the ability to swap between a full-body or PFP perspective and unlock an animated version of an owned NFT.
The Doodle team believes in order to achieve their roadmap objectives, they must remain flexible and multi-chain. They recognize that the right choice of blockchain will depend on the problem needing to be solved, and that Doodles 2 is a product designed to reach the masses. This commitment to multi-chain flexibility will help ensure that Doodles can continue to grow and innovate in the Web3 space
US Government to release roadmap to crypto initiatives
The Biden administration has put a focus on continuing to ensure that cryptocurrencies do not undermine financial stability, protect investors, and hold bad actors accountable. To this end, the administration has identified the risks of cryptocurrencies and created a framework for developing digital assets in a safe, responsible way. They have also ramped up enforcement with the banking agencies and launched public awareness programs to help consumers understand the risks of buying cryptocurrencies.
Additionally, the administration is encouraging Congress to take action to prevent misuses of customers' assets, strengthen transparency and disclosure requirements for cryptocurrency companies, strengthen penalties for violating illicit-finance rules, fund law-enforcement capacity building, and limit cryptocurrencies' risks to the financial system. It is important to be mindful of Congress' potential to make jobs harder and worsen risks to investors and to the financial system.
The Biden administration says they are open to digital currency, and it could expand upon the current financial system. However, they believe there must be a responsible digital asset framework, further regulations, and education on Cryptocurrencies..
Polygon zkEVM in testnet, mainnet date to be released soon
Polygon's zkEVM's wrapped up 0n January 20th and the mainnet launch has been teased.
Zero-knowledge (ZK) rollups is a technology that bundles and verifies transactions using "proofs," which are small pieces of data that confirm the validity and immutability of the transactions. By deploying the Ethereum Virtual Machine (EVM) for Polygon's ZK rollup, developers are able to seamlessly transfer smart contracts from Ethereum to the Polygon environment.
This would allow allow the Polygon to further scale for mass adoption, while adding privacy for its users.
The mainnet launch is scheduled to be in Q1 2023, according to the official announcement of Polygon Labs.
Canto Blockchain launches Contract Secured Revenue (CSR)
Canto is a new  L1 network, and they recently implemented a novel revenue sharing model called CSR.
CSR is a new experimental mechanism implemented on Canto that rewards developers when users interact with their smart contracts. This incentivizes web3 developers to build and grow their protocols to further user engagement.
While critiques of such mechanisms are not unheard of, the Plex Labs CSR dashboard tracks the highest-earning smart contracts.
This mechanism has caused a surge in growth on the Canto network, and will likelt benefit the whole ecosystem to grow.
Spencer Noon highlights these targets for the CSR program:
Short Term:
- CSR incentivizes a turbo
-bootstrapping of new apps on Canto, as opportunistic app devs move into this greenfield to make $$
- This starts a flywheel that attracts more Canto users, which in turn attracts more devs, which then attracts more users, etc. etc.
Medium Term:
- As the system calibrates, at first there will be negative externalities experienced by the broader Canto ecosystem: higher gas costs, more gas-inefficient apps, and lower-grade applications such as forks.
- Users will complain loudly about this on Crypto Twitter
Long Term:
- This is where things get interesting 🍿
- Once the dust settles, app devs will ultimately find themselves in an extremely competitive environment. They will then be forced to build gas-efficient applications if they want to collect any CSR.
- Devs who play the long game and build gas-efficient apps from Day 1 will have earned the trust of users and therefore be much more likely to win their categories long-term.
- Gas prices will find equilibrium and fall in line with market rates of other L1s.
Filecoin Virtual Machine (FVM) expected to go live in H1 2023
Filecoin is set to launch their own L1 in 1H 2023.
Filecoin is a decentralized storage network that provides a cost-efficient, scalable storage solution to the Web3 space. It uses cryptographic proofs of physical work to verify the storage of data, making it a verifiable and secure option.
Messari have called this new system as "Decentralized Physical Infrastructure Networks" (DePIN), while others have called it "Proof of Physical Work" (PoPW).
The idea behind DePIN / PoPW is that crypto protocols can effectively incentivize and coordinate human activity, making them powerful for developing real-world decentralized infrastructure & hardware networks.
Different hedge funds and Venture capitals see DePIN as a massive leap forward for the entire crypto space.
"If we think of L1 ecosystems as nations, then Filecoin has a competitive advantage in storage services & 'exports' this to other L1s."
SudoSwap's $SUDO token is live with lockdrop until March 1st
$SUDO governance will be launched later today, along with the lockdrop and airdrop. SUDO is initially non-transferable. Transferability can be enabled by a standard governance vote.
The $SUDO lockdrop and airdrop can now be accessed at http://sudoswap.xyz/#/lockdrop
---
Market Watch
---
Top Performing Coins of the Week
RNDR
Render has been one of the tokens at trhe forefront of the AI narrative. That aside, there has also been growing speculation that Apple will integrate the Render app to be standard on all Iphone and Ipads.
MINA
Mina is a L2 network that leverages the ZK-Snarks technology. This makes Mina fast, cheap, and private. Mina has recently announced the ZKIgnite and Cohort 1 programs. This will allow developers to seek funding for the zkDapps they wish to create. There will be $500k and 500k Mina to be allocated to devs.
APT
Echoing the same concerns from last week, Aptos is a fundamentlly strong Layer 1 that has a strong future, however, the recent price action is due to the low float (low circulating supply) and perpetual futures shorting. Since a very finite supply is vested, whales can manipulate Spot price to impact futures traders, allowing for easier short squeezes and liquidation cascades. Currently, Aptos has a higher FDV than Solana, Polygon, and Avax.
FTM
Fantom network recently release news about their initiative to allocate 10% of network fees burned to a fund. This fund will be used to incentive Devs to build on the network.
FLR
Flare is the Ripple backed blockchain that was airdropped to users. The token surged this week when a governance proposal was passed to lengthen the FLR distribution, resulting in a reduction of inflation.
CVX
The curve wars are likely back. Projects that need deep liquidity on Curve finance need to "bribe" (Vote) their way into incentivizing that liquidity. To do this, they need to accumulate CRV and vote. Convex saw this trend early and became the nearly the majority holder of CRV (40%). This means that each CVX holds 5.28 CRV, and a project is likely arbbing the intrinsic value of the CVX token.
---
Important Upcoming Events
Feb 4: $FLUX halving
Feb 6: Syntropy $NOIA network public launch
Feb 7: Shade Protocol
Feb 14: $BLUR NFT marketplace airdrop and token launch
Feb 28: Filecoin FEVM release
Feb: Shiba Inu's Shibarium Layer-2 launch
March: EOS Trust EVM mainnet launch
March: Ethereum Shanghai Hard Fork
Q1: Curve Finance Stablecoin launch
Q1: AAVE $GHO stablecoin public testnet
Q1: Optimism Bedrock upgrade testnet
Q1: Redacted Cartel $BTRFLY launching $DINERO stablecoin, collateralized by LSDs
Q1: DCG to liquidate main investment holdings including $API3, $HBAR, $ZEC, $FLOW, $MANA
Q1: Syscoin optimistic rollup launch
Q1: Polygon zkEVM launch
---
NEW VIDEOS
---
This MAJOR Ethereum Upgrade Changes Everything (2023 Ethereum Roadmap)
---
END
Thanks for reading! If you enjoyed this newsletter, please share it with your friends.
Also check out my recommended exchanges:
Binance - #1 Exchange in the World (Use code VirtualBacon for $600 Bonus)
APEX: ByBit's DEX - TRADE WITHOUT KYC (Use code BACON for 10% off fees forever)